I have been urged to provide a thread in which I detail the design and engineering of this: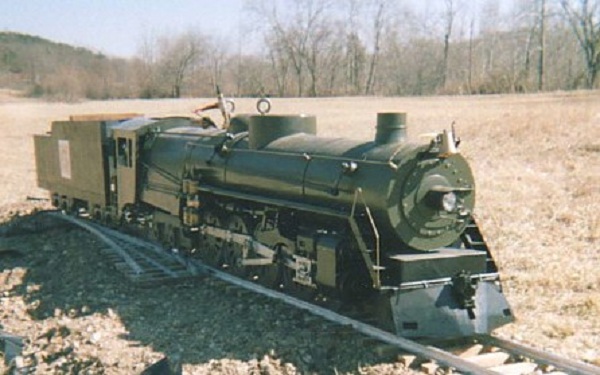 The interest all became whetted when, as a teenager, senior in high school, I took a Railfan Excursion trip, pulled two vintage steam locomotives. It proved to be memorable for a lot of reasons, but chiefly because it was my first, and the lead engine, a big Texas Type 2-10-4,
broke
an eccentric rod in the middle of farm country about halfway to the intended destination. The loco behind the Texas, a big Northern 4-8-4, with considerable difficulty, pushed the disabled beast in front of it at the same time pulling the train of passenger cars and riders behind it, until a siding was reached, where the Texas was uncoupled from the train and abandoned there.
The rest of the excursion was without mishap, though we arrived back in Chicago very late, it being a one-day trip disrupted timewise because of the breakdown. I vowed then to one day build a working model replica of that Northern, in as large a scale as circumstances would permit. An entire lifetime went by, I retired from working, and at that time realized the dream was "now or never" and I set to work in 2002 getting together as much info on that locomotive as I could. Turned out, not much could be found. The best help came from a book, "Steam Locomotives of the Burlington Route", which I had acquired way back in the '70s by chance. The Chicago, Burlington, and Quincy Railroad, often called Burlington or CBQ for short, ran plum through the center of my hometown in suburban Chicago. Thus, growing up there, I was no stranger to the indescribable thrill of standing beside the tracks as a giant steam locomotive passed by, the ground shaking beneath one's feet, and noise reverberating against one's chest! I vividly recall seeing the steel rails bend up and down where a place happened to have become somewhat loose. I believe that rail was nearly the heaviest in use anywhere, at 140 lbs. per yard, 155 being the heaviest.
Sunday afternoons were often relegated to the short drive to the Burlington tracks, where home-made ice cream was still offered by a local family-owned business "Frejlach's Ice-Cream". My folks and I happily consumed the treats while parked by the tracks, watching the trains. The "Q" had not 2, but 3 mainline tracks running through our town; a train every 10 minutes or so could be counted on. Undoubtedly as a kid, I likely saw Engine No. 5632, the Northern used years later for the excursion trip, pass by while train watching.
I have no idea what sort of interest level exists here in the Forum for my reminiscent gibberish, but will go on ahead unless plead with to give it up!