iNow wrote:
I think another question at play here is whether or not art should be treated like a good or commodity, and then further what is and is not art. If I buy land, I could equally be depriving people of views to beautiful streams or woodlands or animals, for example.
What qualifies as art could be tricky, i've seen some good graffiti painted over because it's not considered art by the powers that be. But in this particular case there was no doubt in anyone's mind , especially the seller, that it was art.
As for whether art should be a good or commodity... In my opinion art is only art if it is accessible to a community. But now we're getting onto a philosophy of art question i'm ill-equipped to comment on.
iNow wrote:
If I buy a building, and that building is covered in graffiti, I can paint over or cover that graffiti and would be denying people access to the culture who put it there. But where do we draw the line? Who gets to decide which goods are too important to deprive from the public, and how are those decisions made?
Tough questions in general cases. In this particular case i think there is enough public outcry to warrant its retention.
tridimity wrote:

How would you interpret this new work?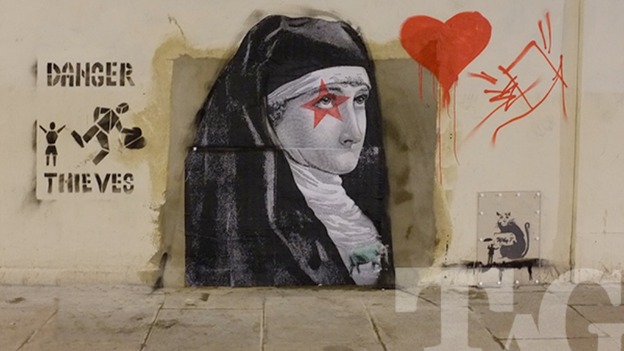 Not sure it's a Banksy, which are normally easily to interpret. As for the meaning, it's hard to imagine the artist was not aware of the previous work there, and so it's not too much of a stretch to think it is some commentary on its disappearance. Unfortunately i'm not much of an art critic though, never exposed to it growing up.